Teachers
The DH10 2020 teaching team consists of Bob Duchmann, Nancee Sobonya, Johanna Holloman, Karen Johnson, and Hameed Ali.
Teaching Team
Bob Duchmann
has been a student of the Diamond Approach for over 25 years and is a Diamond Approach teacher based primarily in San Francisco. He has a Master's Degree in transpersonal psychology from the California Institute of Integral Studies and has been a licensed Marriage and Family Therapist (MFT) since 1990. He produces Hameed Ali's annual all-School retreats and assists with DA groups in the Bay Area. Additionally, Bob has produced numerous international spiritual retreats, conferences, and music concerts, and has an extensive background in the arts with a particular emphasis in music, sound and video production. He has studied vipassana meditation, holotropic breathwork, body based psychotherapy and shamanism. He is a third generation native of the Bay Area.
Nancee Sobonya
is a teacher of the Diamond Approach, assisting and teaching groups in the Bay Area, Los Angeles and Europe. She is a faculty member of the European Ridhwan International Seminary, serves on the California End of Life Service Group for the School and has a private practice in Berkeley. In addition to her 25 years as a student in the Ridhwan School, she has studied psychology, and western and eastern spiritual traditions at UCSB, JFKU and in Asia, where she began practicing Vipassana meditation and was deeply impacted by Advaita/Nondual teachings. She has a degree in Transpersonal Psychology and was an adjunct faculty at JFKU and Starr King School of Ministry. Nancee also has seventeen years of hospice experience as a Grief Educator. In 2005, she produced and directed her first educational documentary,
The Gifts of Grief
. She continues to offer workshops and screenings of this film worldwide. For balance she enjoys spending time in nature and engages in an ongoing dance/movement practice in the East Bay. Her website is
ShiningLightProductions.net
.
Johanna Holloman
was born in Germany, where she worked as a clinical psychotherapist for many years. She has been a student of the Diamond Approach® for 25 years and serves as a teacher within the Ridhwan School, teaching both in Germany as well as in California. She has a private practice in Carmel, where she lives with her husband and son. Johanna brings to her work over two decades of experience as a bodyworker and group-leader at the Esalen Institute, Big Sur; and teaches various forms of presence-based bodywork and movement (Esalen Massage®, Deep Bodywork®) at Esalen and internationally. As a Yoga teacher (E-RYT500) she created and taught the Esalen In-House Yoga Teacher Training, and currently trains and supervises teachers and students in Europe and US. Her website is
deepbodywork.com
.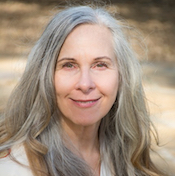 Karen Johnson
Karen Johnson began her journey into the spiritual universe at the age of fourteen. After graduating from art school at twenty-three, she met Hameed Ali (A. H. Almaas), which set her on a new trajectory. They eventually became colleagues, codeveloping the Diamond Approach as it is taught in the Ridhwan School today. Karen holds a master's degree in psychology and trained in dance as well as art. Working alongside each other for the past forty years, she and Hameed continue the wild and thrilling ride through the endless realms of our miraculous nature.
Hameed Ali
(A. H. Almaas) was born in Kuwait before moving at age 18 to the USA to study at the University of California in Berkeley. Hameed was working on his PhD in physics, where he was studying Einstein's theory of general relativity and nuclear physics, when he reached a turning point in his life and destiny that led him more and more into inquiring into the psychological and spiritual aspects of human nature. His journey culminated in becoming the conduit for a new spiritual path, the Diamond Approach to Inner Realization. Since founding the first Diamond Approach group in the mid–70s, the work has expanded to include thousands of students throughout the planet. Hameed is the author of numerous books, most recently
The Inner Journey Home: Soul's Realization of the Unity of Reality
,
The Unfolding Now: Realizing Your True Nature through the Practice of Presence
, and
Brilliancy
.